Receive SMS online
Receive SMS online messages forever and without registration.
Receive free SMS online messages without registration. Free service of receiving SMS messages from all over the world. You can use our service for testing, registration or logging into web services or applications. Our service is free, but if you decide want to have a number just for you and not to share with others you can buy it from us.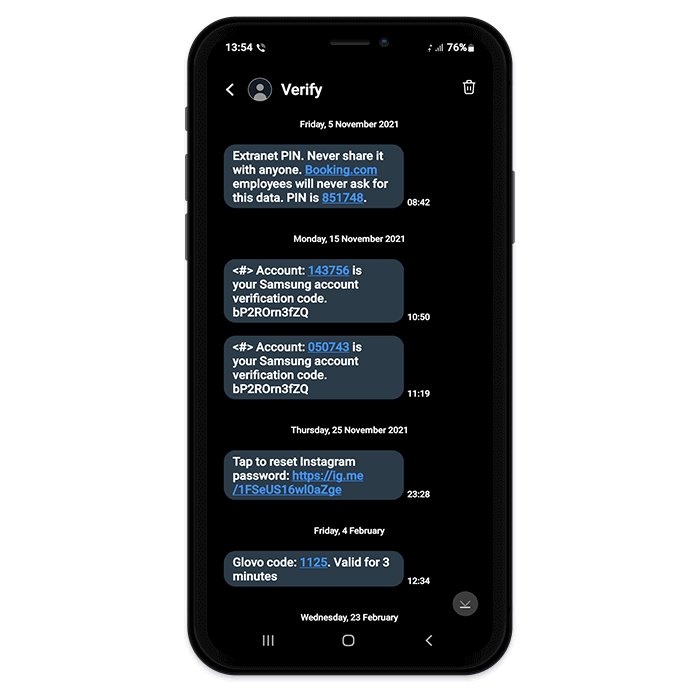 Want to receive SMS online for free? Send and receive free short text messages using a temporary virtual number.
Why do people want this service for receive sms online free? Because it facilitates:
· Receiving website and application verification codes
· Communicating without leaving personal data
· Avoiding unwanted vendor sales calls and texts
· Accessing websites requiring country specific phone numbers
Send and receive free SMS via API
Easy integration just for your needs and applications.
Receive absolutely free SMS
Our SMS online receiver service is completely free and always free. Every SMS you receive either by some number or text is free.
Very fast SMS service
Messages sent to our mobile phone numbers arrive in few seconds.
International Mobile Phone numbers
We have temporary mobile phone numbers from 10+ different countries.
Hash4tag.com is short free message service.
It is a text messaging service that allows users to receive live messages over the Internet.
We are always trying to make the best possible experience for our users, so we always try to give you free sms receive online for the purpose of testing your services and projects. When dealing with a new service it is important to be sure you are getting exactly what you need.

We receive SMS online from all over the world to our phone numbers in the Austria, Australia, Belgium, Canada, Estonia, France, United Kingdom, India, Israel, Lithuania, Netherlands, Serbia, Sweden, United States.

Before using our services, you should know the phone numbers available here are shared numbers and are temporary. The content of the message is accessible by every user. Please do not use these phone numbers to receive important messages or PINs. These phone numbers should not be used for any sensitive transactions and for any illegal uses.
By using this website, you accept personal responsibility for the results of your actions.

United States virtual phone numbers for receive SMS

Canada virtual phone numbers for receive SMS

Puerto Rico virtual phone numbers for receive SMS

United Kingdom virtual phone numbers for receive SMS

Sweden virtual phone numbers for receive SMS
INSTALL FREE SMS RECEIVE APP FOR CHROME