Receive SMS online
Receive SMS online messages forever and without registration.
Receive free SMS online messages without registration. Free service of receiving SMS messages from all over the world. You can use our service for testing, registration or logging into web services or applications. Our service is free, but if you decide want to have a number just for you and not to share with others you can buy it from us.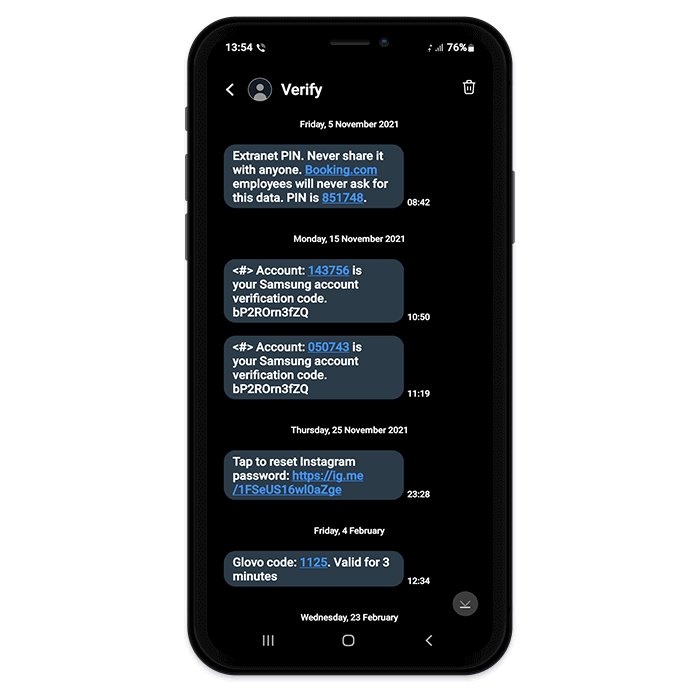 Want to receive SMS online for free? Send and receive free short text messages using a temporary virtual number.
Why do people want this service for receive sms online free? Because it facilitates:
· Receiving website and application verification codes
· Communicating without leaving personal data
· Avoiding unwanted vendor sales calls and texts
· Accessing websites requiring country specific phone numbers
通過 API 發送和接收免費短信
輕鬆集成,只為滿足您的需求和應用。
接收完全免費的短信
我們的 SMS 在線接收服務完全免費且始終免費。 您通過某個號碼或文本收到的每條短信都是免費的。
非常快的短信服務
Messages sent to our mobile phone numbers arrive in few seconds.
非常快的短信國際手機號碼
我們有來自 10 多個不同國家的臨時手機號碼。
Hash4tag.com is short free message service.
它是一種文本消息服務,允許用戶通過 Internet 接收實時消息。 我們一直在努力為我們的用戶提供最好的體驗,因此我們總是嘗試為您提供免費的在線短信接收,以便測試您的服務和項目。 在處理一項新服務時,確保您得到的正是您所需要的,這一點很重要。
我們在奧地利、澳大利亞、比利時、加拿大、愛沙尼亞、法國、英國、印度、以色列、立陶宛、荷蘭、塞爾維亞、瑞典、美國的電話號碼接收來自世界各地的在線短信。
在使用我們的服務之前,您應該知道這裡提供的電話號碼是共享號碼並且是臨時的。 每個用戶都可以訪問消息的內容。 請不要使用這些電話號碼接收重要信息或 PIN。 這些電話號碼不應用於任何敏感交易和任何非法用途。 通過使用本網站,您對自己的行為結果承擔個人責任。

用於接收 SMS 的美國虛擬電話號碼

用於接收短信的加拿大虛擬電話號碼

用於接收短信的波多黎各虛擬電話號碼
為 Chrome 安裝免費的 SMS 接收應用程序