Receive SMS online
Receive SMS online messages forever and without registration.
Receive free SMS online messages without registration. Free service of receiving SMS messages from all over the world. You can use our service for testing, registration or logging into web services or applications. Our service is free, but if you decide want to have a number just for you and not to share with others you can buy it from us.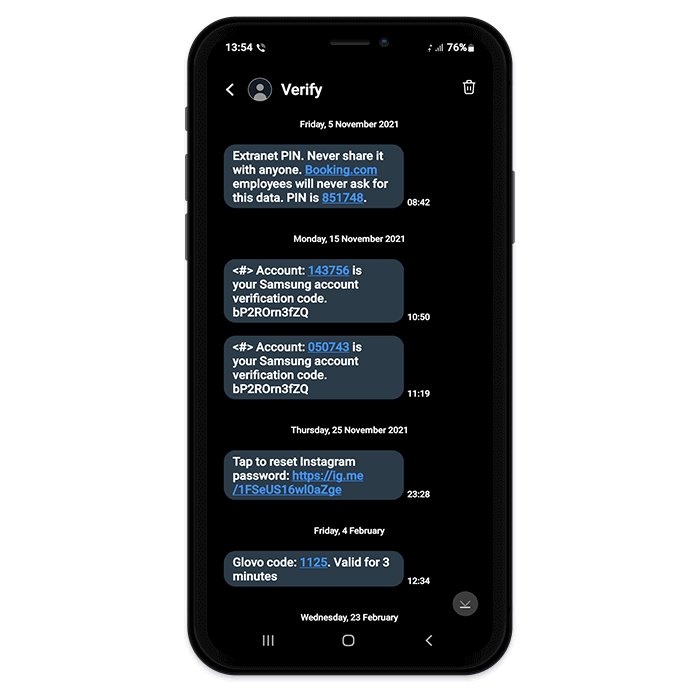 Want to receive SMS online for free? Send and receive free short text messages using a temporary virtual number.
Why do people want this service for receive sms online free? Because it facilitates:
· Receiving website and application verification codes
· Communicating without leaving personal data
· Avoiding unwanted vendor sales calls and texts
· Accessing websites requiring country specific phone numbers
Senden und empfangen Sie kostenlose SMS über die API
Einfache Integration nur für Ihre Bedürfnisse und Anwendungen.
Erhalten Sie absolut kostenlose SMS
Unser SMS-Online-Empfangsdienst ist völlig kostenlos und immer kostenlos. Jede SMS, die Sie entweder über eine Nummer oder einen Text erhalten, ist kostenlos.
Sehr schneller SMS-Dienst
Nachrichten, die an unsere Mobiltelefonnummern gesendet werden, kommen in wenigen Sekunden an.
Internationale Handynummern
Wir haben temporäre Handynummern aus über 10 verschiedenen Ländern.
Hash4tag.com is short free message service.
Es ist ein Textnachrichtendienst, mit dem Benutzer Live-Nachrichten über das Netzwerk empfangen können.
We are always trying to make the best possible experience for our users, so we always try to give you free sms receive online for the purpose of testing your services and projects. When dealing with a new service it is important to be sure you are getting exactly what you need.

Wir erhalten SMS online aus der ganzen Welt an unsere Telefonnummern im Österreich, Australien, Belgien, Kanada, Estland, Frankreich, Vereinigtes Königreich, Indien, Israel, Litauen, Niederlande, Serbien, Schweden, Vereinigte Staaten.
Bevor Sie unsere Dienste nutzen, sollten Sie wissen, dass die hier verfügbaren Telefonnummern gemeinsam genutzte Nummern und vorübergehend sind. Der Inhalt der Nachricht ist für jeden Benutzer zugänglich. Bitte verwenden Sie diese Telefonnummern nicht, um wichtige Nachrichten oder PINs zu erhalten. Diese Telefonnummern sollten nicht für sensible Transaktionen und für illegale Zwecke verwendet werden. Durch die Nutzung dieser Website übernehmen Sie die persönliche Verantwortung für die Ergebnisse Ihrer Handlungen.

Virtuelle Telefonnummern der Vereinigten Staaten für den Empfang von SMS

Kanada virtuelle Telefonnummern für den SMS-Empfang

Puerto Rico virtual phone numbers for receive SMS

Virtuelle Telefonnummern in Großbritannien für den SMS-Empfang

Virtuelle Telefonnummern für Schweden zum Empfangen von SMS
INSTALLIEREN SIE DIE KOSTENLOSE SMS-EMPFANGS-APP FÜR CHROM